Life is an Open Road
Friday, August 4, 2017
I am 26 years old and I just became friends with my Father.
I've always had a strong relationship with my Dad, Michael; us having almost identical personalities makes it kind of hard to not get along. However, as I grew up and entered my teenage years, I strayed away from him [Dad], like many teenage girls do. Looking back on my adolescence, I was actually rotten towards him about the dumbest things, typically when things didn't go my way, such as: not being able to stay out pass curfew, missing out on Saturday night parties, going away cross country in the Motorhome instead of going to the beach like my friends.
After high school, I entered college. And then with college there was a serious boyfriend, then internships and finally my first job out of college; maybe, throw in another boyfriend or two (HAHA!) Therefore my visits with Dad became limited to the times when it was the entire family only. Unfortunately this was how the beginning of my young adult life sacrificed my bond with Dad.
I began to work for my family business two years ago [Glenville Funeral Home; GFH], when at the time I was in between careers and thought my position was only temporary while I went on interviews and figured out what my next move was. Never did I think I'd end up working towards becoming a funeral director like my Dad. Now with my new ambitions and career, I have a new boss and guess who that is…
With my Dad's new title in my life, we see each other almost every day. You may think working with your family may [is] be a dream, but sometimes it's not the case. Being a dedicated, to the point businessman, my Dad is never one to sugar coat things, even for his daughter. Our work at the funeral home is our main priority, with duties to the families we serve. Between the funeral home, Mortuary Science classes, and my independent life, my priority to hanging out with good ole Dad was buried down the list. No pun intended.
It wasn't until the last few months when I started thinking about my relationship with my Father. I feel as if maturity is somewhat a part of my reflection process, however, I know my sudden urge to get to know my Father goes deeper than a coming of age story.
This year I've become a main contact for most of the families we serve at G.F.H. As someone who people turn to for answers, feel comfortable around and ultimately trust to take care of their loved one, I become fortunate to be the one they also open up to, and thus learn about the life that has passed.
In most cases, the life was long. In some, the life was cut short, but still as full as someone who lived to be 100. Unfortunately, there are the lives that never had a chance to begin, but with just a few months, days, moments comes precious memories that will live forever. All these lives have departed and I will never meet them, although I feel as if I did because they remain alive in story from the memories shared by loved ones.
It's fascinating to learn about people through the eyes of someone else, you find out what they accomplished, who they met, who they were, where they traveled, what mistakes they made, what their motto of life was, what it was like growing up in the past, what they think about the current world today, what the most important thing was to them….I could keep going on. At the end of each conversation, you learn new information you never knew before all because of someone you never met. In turn, these conversations make me think about what I'm doing with my own life, what my passions are, am I on the right path to what I want in life. The stories I hear are in fact life changing, but the real motivation to never take life for granted is being around the ones who are left behind, the survivors.
When someone you know dies, everything you think, feel or do because of this person is boiled to the surface. As funeral professionals we are faced with feelings of loss, regret, appreciation, love, and companionship, all emotions that are released during these times. In the last six months, a handful of families have touched my life forever. Their stories expand in experiences, but one family in particular stood out.
This family did a lot together. As grown adult children they still made time for their parents and would do yearly trips together. They traveled near and far, which was documented through photography for myself and others to admire. They were sad, of course, about the passing of their loved one, but I didn't see an ounce of regret on their faces. They truly felt blessed for the time they had with one another, and they never took that time for granted. In addition, they told stories about their parent, some that they shared but most of them surprisingly were stories before their time and of their parent's youth. It was remarkable to listen to, but then became sad to think about because I didn't know that much about my own Dad.
My Dad began RV'ing with his own family when he was a young boy. He reinstalled his family tradition with his Father, my Papa— Michael DeMarco Jr. Together they traveled up to Canada, down the eastern coast and across the southern route of the United States. The next trip they had planned was to travel across the northern states of the country, unfortunately my Papa got sick before they could make their final trip, he passed in 2011. My Father was devastated about his passing, the light he had before had disappeared and all of that light will never truly come back. As for his passion for traveling in the RV, it was gone. It wasn't for some time later did he decide to take out the motorhome, but the furthest he got since my Papas passing was only Hershey, Pennsylvania.
Fast forward to the day before Fourth of July this year, 2017. My Dad surprisingly had the itch to get back out onto the open road and travel in his RV, like he did with his Dad—maybe he reflected on the same thing after working with the family I talked about earlier. Seeing him brush the cobwebs from the motorhome tires and check to see if the slide outs actually worked was enjoyable to watch. My mother, sister and I watched him as he pulled out of it's dormant position, and then I began to chase him down the road nervously; there is no way he could drive that "thing" alone.
As we drove off to get gas for his imaginary cross country trip, I laughed as I watched him steer the massive rig. He kept talking about what he wants to see and what he did with his Dad. I was interested. After we got gas, my Dad started to pack his bags. My Mom and I stood around him telling him, "you can't go by yourself!", but his stubbornness kept packing, there is no stopping a man on a mission.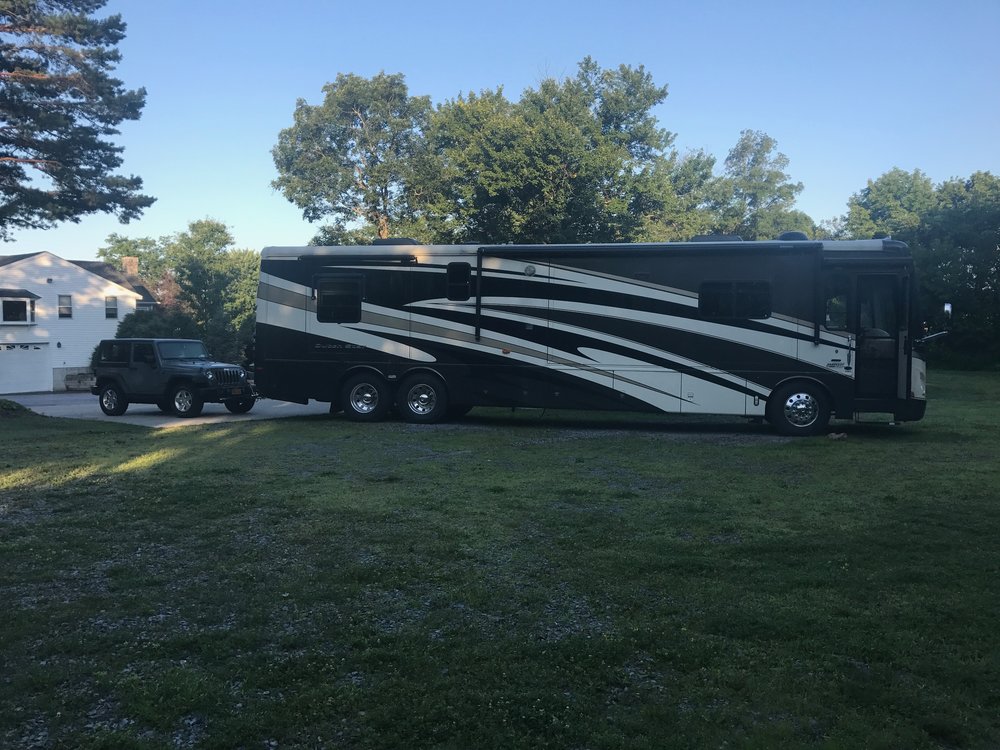 A little back story of my family is that we have traveled in the motorhome together to many places since 1999, primarily to eastern coast beaches because my sister, Taylor, and I were whiny little girls. We also accomplished a cross country adventure through the southern route from Vegas; we flew into Vegas, while my Papa flew back home from Vegas. My Mother Donna, definitely had a few panic attacks on the way home (especially through the Rocky Mountains), while my sister and I were tweens and playstation was more important than seeing the buffalo on the side of the road (REGRET), and we had two cats at the time that stunk up the place with their litter box. Let's just say my first cross country trip wasn't something you THINK you want to do again. So with this information, my Mom was the first to say "I'm not going" , then my sister and I was next to make a decision. My Dad looked devastated. I asked my Dad, "Well, when are you leaving…" He answered, "As soon as possible." Well, that didn't leave too much room for planning and packing.
Later that day, I began to think of the family who traveled together. I knew I'd have to postpone taking my National Boards for funeral directing, the funeral home would rely on a smaller team while we would be away, that I'd miss a good chunk of summer fun with my friends, and I also would be saying goodbye to my boyfriend for two weeks. But, hey you have one Dad, one life and I'm lucky to be living in the now with this opportunity to just say, "yes". I went to my Dad and gave him my hopeful answer, "Dad, you aren't going by yourself. I'm going to pack my bags. We will leave tomorrow evening [Fourth of July]." His face after I answered was everything, right then and there.
I could go on and on about our trip together. Maybe I will post a blog somewhere else one day, gosh, maybe I could write a book! With an adventure comes some misadventures of course, especially the mechanical malfunctions we endured, but this malfunction is our dysfunction. My Father and I have the best relationship today, and it's all because we shared 15 days on the open road together. I learned a lot about my Dad during those days, and I'm proud to be his daughter.
My younger sister, Taylor, was inspired to go in the motorhome and now is spending two weeks with my Dad as they travel across the south. And, now my Mother will be meeting him in Nashville, TN to make the last 5 days of the trip. My Dad is thrilled to say the least!
In conclusion, I'm no longer only behind the scenes at the funeral home, listening to incredible stories second hand, but now I'm a person who hears their stories, lessons, memories and adventures as a future funeral director. Each time someone shares information about their beloved one they share a piece of history with me. I am beyond grateful for these conversation because they are already influencing me to be a better person today.
*If you'd like to see more photos and funny videos from our adventure cross country (New York—> Pennsylvania —> Ohio —> Indiana —>Illinois—->Wisconsin—->Montana—->South Dakota—>Wyoming—>Montana—>Idaho—->Washington—->Oregon) then please add me on Facebook, Brittany DeMarco. And please remember to never take life for granted.
Previous Posts
As humans, we are different. So, why are most funerals so unoriginal? The 23rd psalm is beautiful and traditional, but because it is popular shouldn't be the only reason why we recite it at funeral...
Need More Information?
Has A Loved One Passed?
We Are Always Here To Help.
Providing a full range of funeral services to Saratoga and Schenectady county residents since 1986.
We appreciate Google Reviews to help us educate and inform others on our services.